August 10-24, 2014
4 Elements Exhibition
Arousing awareness of maintaining the elements in the natural environment.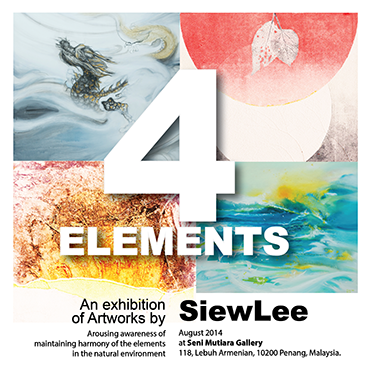 Official Opening
by Dr. Venessa Khoo
Aug 10, 2014. Sunday, 6 pm.

Daily: Aug 10-24, 2014.
Hours: 11:00 am - 6:00 pm

Venue:
Seni Mutiara Gallery
118 Lebuh Armenian,
10200 Penang,
Malaysia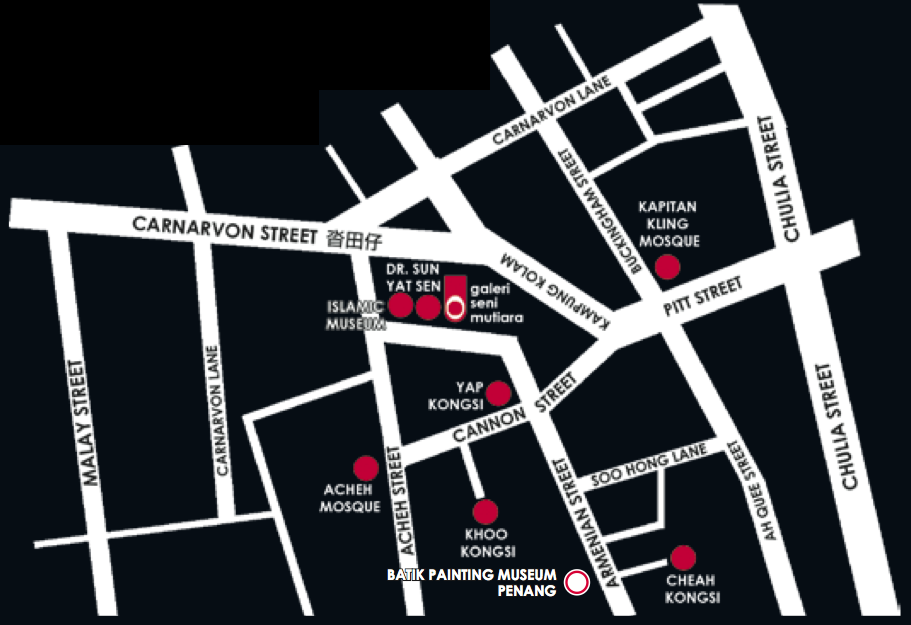 Exhibition Handbook & Catalogue: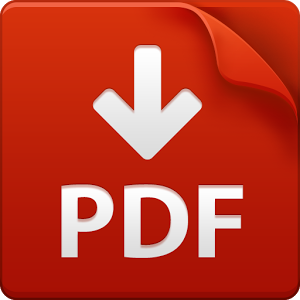 ---
Dec 1 - 28, 2011
Essence, Element & New Drawings Exhibition
An interesting visual dialogue showcasing the applied creativity of 3 women artists: Wong Siew Lee, Wong Cheng Yong and Chor ShyMiin

Opening:
1st December 2012
8:30 pm
At TJ FINE ART
Centrio Pantai Hillpark
A-3-10 / A-3-22
Jalan Pantai Murni
59200 Kuala Lumpur

Guest of Honor: Zain Azahari Zainal Abidin

Invitation: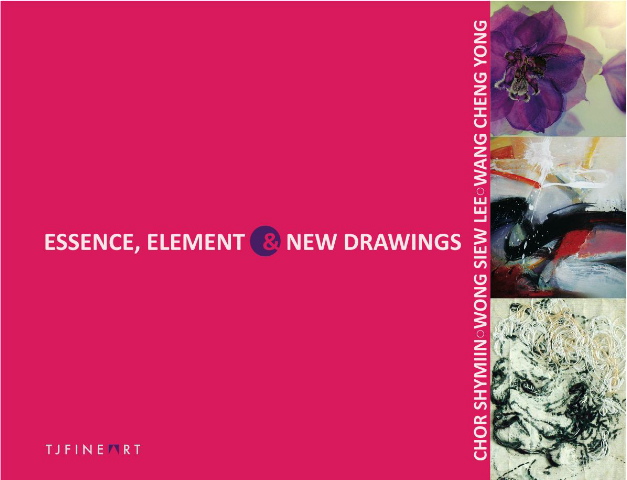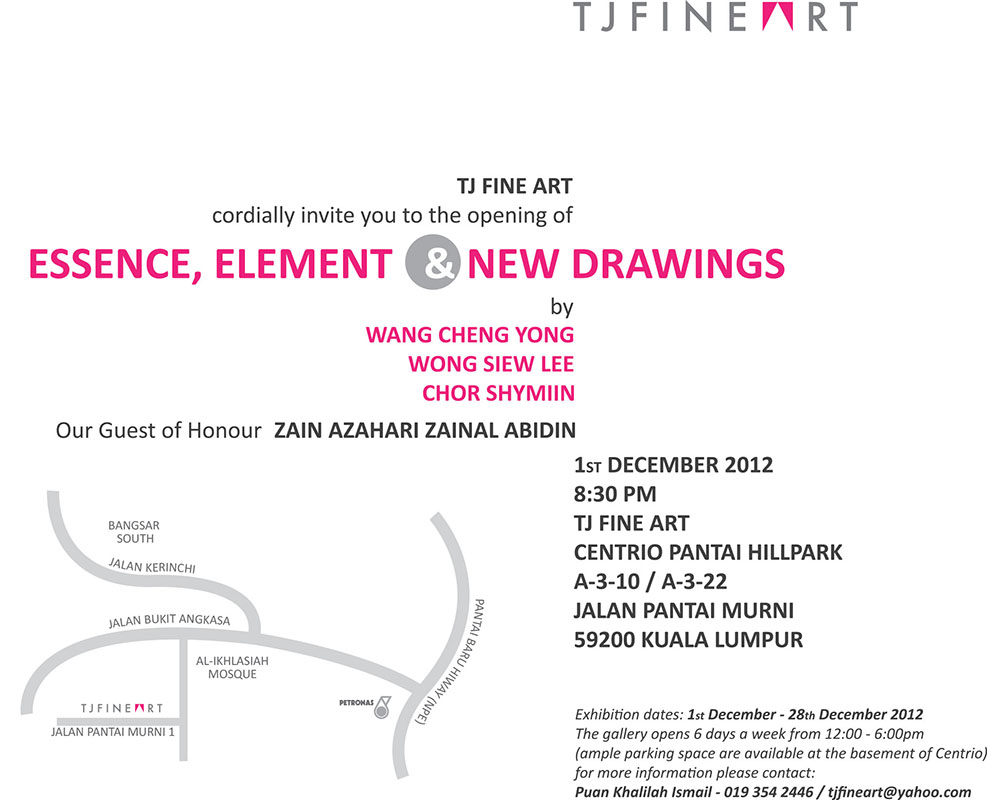 Exhibition Handbook & Catalogue: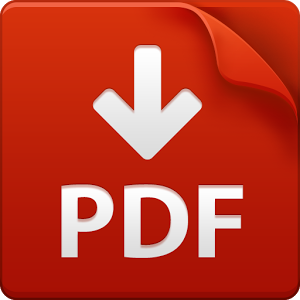 ---
Sept 5-30, 2011


NST Kuala Lumpur Exhibition
A solo exhibition of artworks by Siew Lee

Venue :
Main Lobby, Balai Berita,
New Straits Times Press (M) Berhad,
31, Jalan Riong, Kuala Lumpur.

Theme : A Matter of Mind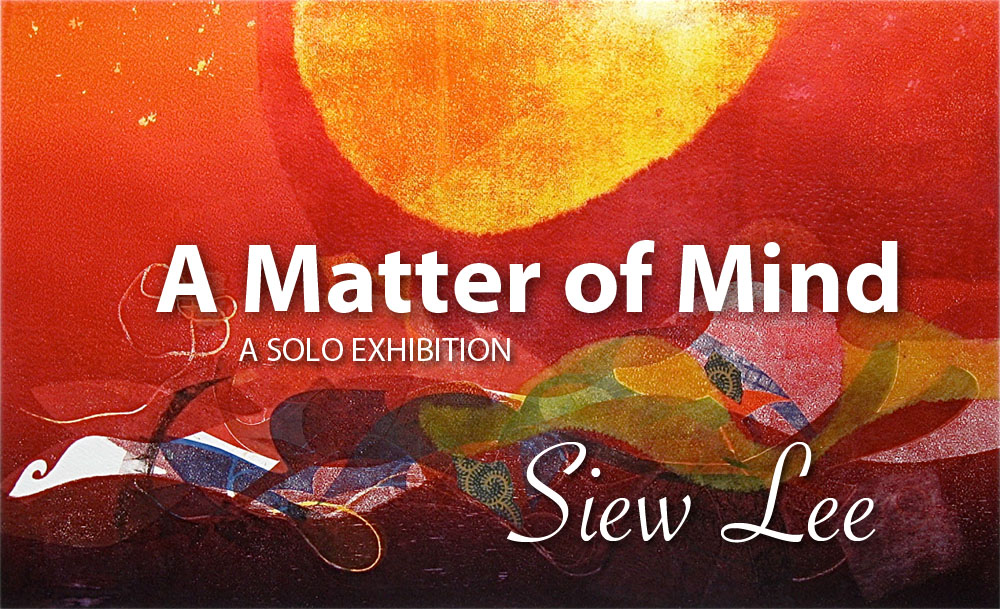 The exhibition was officially opened by Ms Shirley Chu Siow Eng, PJK, the President of Persatuan Pelukis Malaysia.

Part of the sale proceeds was donated to the building fund of Lovely Disabled Home (www.lovelydisabledhome.com)

Thanks much to all who contributed to the success of the exhibition!

Exhibition Handbook & Catalogue: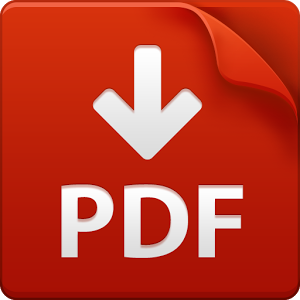 All artworks are available in original sizes.
Works are organized in collections. Click on a collection below to view more.
Paintings
4 Elements Series
Arousing awareness of maintaining the elements in the natural environment.
Wind Series
An artist's expressive reactions to wind.
Beyond the Horizon Series
A series of perceptions beyond the visual landscape.
Mind and Matter Series
This series was inspired by the idea of inserting Buddhist elements into contemporary abstract art.
Play Series
The first series of abstract art -- joyous, adventurous, playful. It evolved from small canvases to bigger, more challenging ones. Play to overcome the fear of making mistakes, let go, push beyond the boundaries. Fun!
Buddhist Series
A series on inspirational and devotional Buddhism.
Lotus Series
This series captures serenity and awakening, gifts from the lotus.
Sandiwara Series
A polical awareness piece.
A Gust of Purple
An exploration of the color purple -- feminine, romantic, royalty, spiritual and even mysterious.
Other Paintings
These are works in oil and watercolor, a mixed collection from life, its explorations and discoveries.


Prints
Reformasi Series
Collected by the National Art Gallery, Malaysia, this series of woodcuts capture the political turmoil surrounding the events of September 1998 in Malaysia concerning the deputy Prime Minister Anwar Ibrahim.
Letter from Borneo
This is an award-winning print. Received the Jury Award, SAKSI Art Competition, National Art Gallery Malaysia.
Connected Variation Series
Exploring the depth and breadth of emotional-visual expressiveness of mixed media.
Other Prints
Works include Dry Point Prints, Turtle needs Your Help, Jendela Alam, and others.


Drawings
Abstract Drawings
These are exploratory chalk drawings: a flow of media, light, mind, hand, and a dance with the energy of the moment.


Still Life Drawings
Classic and expressionist still life in various media.


Specials
Auction to Save the Sun Bears
Impassioned paintings to help preserve our forests from man's destructive activities. These works were auctioned off to raise funds to save the Sun Bears of Borneo.
We Need Your Help!
An appeal to save our rainforests in East Malaysia, and with it the irreplaceable million-year-old treasure troves of flora and fauna genetic assets.
About the Artist
Wong Siew Lee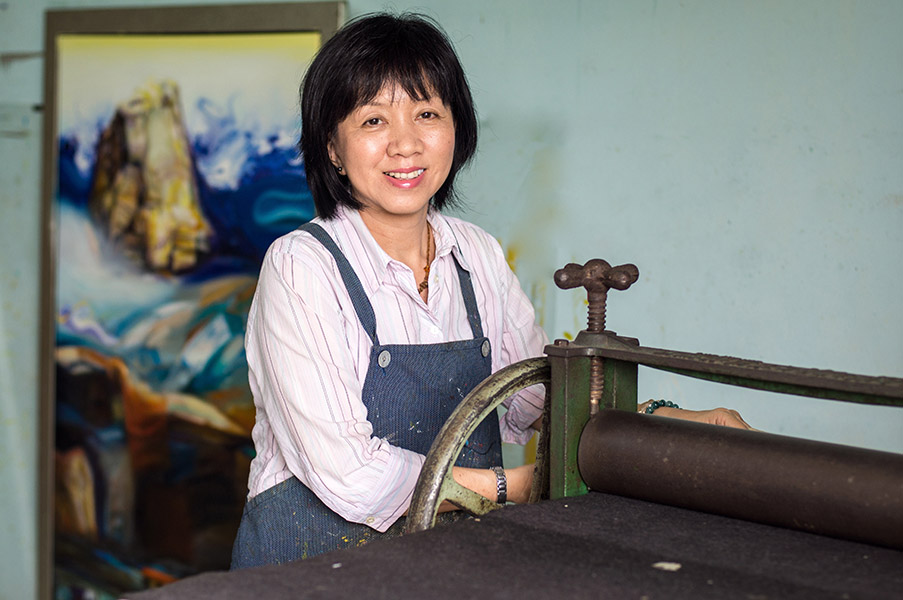 VISUAL EXPRESSION WITH AN OPEN MIND

Abstract art is free-form jazz rendered in colour. It gives me the freedom to imagine and create and turns my senses on. My modern art knows no bounds, there is no limit. In the process of painting I learn to let go, simplify, make decisions and open up to different options. The very act of painting is, for me, a microcosm of life!

Believing in the freedom to express and art as experience (John Dewey,1934), Wong Siew Lee's works are reflections of the natural world from an artistic mind. The context of her art is her daily life experiences and time spent in quiet contemplation. To her, every piece of art is part of a dialogue created to communicate and express. That it may be found to be aesthetically pleasing is an additional pleasure.

Siew Lee's first series of abstract art, The Play Series, 2006, kickstarted her journey into modern art. Play to overcome fear of making mistakes. Play to be bold. Play to let go, to push beyond the boundaries and to let the imagination take hold.

The Mind and Matter Series, 2008, her second series of abstract paintings, was inspired by Buddhist philosophy expressed in a contemporary context. She thinks creating art is merely a state of mind. The resultant paintings are reflections of her mindscape of those moments in time.

Siew Lee is currently working on a new series, The Four Elements, 2014, of Earth, Water, Fire and Air. This series denotes the solidity, cohesion, heat and movement of natural existence. She would like to raise awareness of the equilibrium of the four elements in the natural phenomenon of existence. Her message is that we should not disrupt nature, for example the vast area of bio-diverse rainforest that has given way to mono-culture oil palm plantations. Every natural element has a purpose.

Siew Lee holds an Advanced Diploma in Fine Arts majoring in printmaking. Her representative monoprints work, Connected Variations Series, 2012, was created by intersecting different methods of printmaking, namely relief, intaglio, silk-screen, chin colle and collagraphy by overlapping the printing techniques. Exploring the depth and breadth of mixed media, to her, was an exciting and fulfilling experimental artistic experience.

Her prints have travelled afar and have been collected by the Ino-cho Paper Museum, Kochi, Japan; the National Art Museum in Cluj-Napoca, Romania, and the Municipal Art Gallery in Lodz, Poland, as well as being collected in Korea, Macao, China and the United Kingdom. Back home, The National Visual Art Gallery has collected her six-piece woodcut prints, The Reformasi Series (2001/2005). In this series she used thick indelible ink and bold strokes to show the power of physical and emotive expression.

Siew Lee's early works have been recognized in open competitions. Her etching print entitled We Are One was selected as one of the finalists at 2012 Penang Art Open "Business as Un-Usual". Siew Lee also won the Consolation Prize at the 2004 Johore Historical Buildings Drawing Competition with a woodcut print entitled Two Faces of Sultan Abdul Bakar Mosque; the Jury Award in 2003 National Art Gallery SAKSI (Suatu Apresiasi Kisah Sejarah melalui Seni) Art Competition with an etching print entitled Letters from Borneo; and Third Prize in 2002 Tanjung Heritage Art Competition with a drypoint print entitled Wayang Kulit.

While printmaking remains her primary outlet on her personal journey of visual expression she also demonstrates her artistic passion in contemporary paintings.

Wong Siew Lee is presently a Resident Artist of the University of Malaya.